Lionel Messi is often considered not only the best active football player in the world but also one of the greatest of all time, alongside legends such as Maradona and Pelé. In addition to being awarded the prestigious Ballon d'Or prize a record five times, Leo has become the all-time top goalscorer for both Argentina's national team and FC Barcelona, the mega club he has helped to win more than 30 championships. While Messi is a household name across most of the globe, the superstar forward also surprises with his relatively low profile off the field.
---
Lionel Messi Biography
«I prefer to win titles with the team ahead of individual awards or scoring more goals than anyone else. I'm more concerned about being a good person than being the best footballer in the world. Besides, in the end, when all this is over, what can you take with you? My hope is that, when I retire, I'm remembered for being a good guy.»  (Extract from interview with Spanish newspaper "El País" in 2012)
Lionel Andrés Messi (aka Leo, Lio, La Pulga [The Flea], La Pulga Atómica [The Atomic Flea], El Messías) was born on June 24, 1987 in the Argentine city of Rosario. He was raised with three siblings in a working-class neighbourhood known as Barrio General Las Heras. At the age of 5, he started playing for the Grandoli, a small local club in which his family was actively involved. By the time Leo turned 8, he was already playing for the youth academy of Newell's Old Boys, a major professional squad based in Rosario.
Recognizably smaller than most of the kids in his age group, Lionel Messi was eventually diagnosed as suffering from a growth hormone deficiency. His father unsuccessfully turned to several Argentine football clubs seeking financial aid for an expensive treatment, which almost jeopardized the promising career he envisaged for Leo.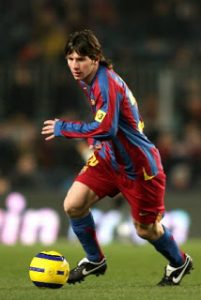 In 2000, at age 13, Lionel Messi signed with Fútbol Club Barcelona and moved with his family to Spain, as the Catalan club agreed to pay for his hormone treatments as part of the contract. After a quick progression through Barcelona's youth academy 'La Masia', Leo made his debut in the 2004–05 season, at age 17. Barça won the Spanish championship La Liga that season, and in the following it won a double of La Liga and UEFA's Champions League. Messi's first big success came in the 2008–09 season, during which he helped Barcelona achieve the first treble in Spanish football, including Copa del Rey, La Liga and the Champions League.
Over the following years, Lionel Messi continued to break record after record to emerge as the top class player for Barcelona and the world at large. Messi's personal best campaign statistically to date was the 2011–12 season, in which he set the Spanish and European records for most goals scored in a single season, while establishing himself as Barça's all-time top scorer in official competitions. Following each appearance, the Argentine left-footed star proved to be versatile enough to play anywhere across the frontline and to mesmerize defenders with a mix of skill and pace.
Lionel Messi's excellence at the field has been lauded by the world over through the numerous awards, honors and achievements that he has been bestowed with. Him and Portuguese star Cristano Ronaldo have been the only winners of the prestigious Ballon d'Or award for the 2008–2016 period, Leo Messi taking the lead with five prizes in total. He also holds over 40 recognitions as best player of the year, top goalscorer and top assist provider, plus a considerable number of world records.

At the international level, Lionel Messi chose to represent homeland Argentina, rather than Spain, despite his dual citizenship. He made his debut with Argentina's senior team in 2004 and has been the squad's captain since 2011. Titles won include FIFA's U-20 World Cup in 2005 and the Olympic Gold Medal in 2008. In June 2016, Leo became Argentina's all-time leading goalscorer, surpassing Gabriel Batistuta's previous mark of 54 goals.
While Argentina has one of the world's finest national football teams, the squad has failed to win a major international title since Lionel Messi has been a part of it. Indeed, with him the albiceleste came as the runner-up in four instances: the 2007 Copa America, the 2014 World Cup, the 2015 Copa America, and the 2016 Copa America Centenario. After the latter defeat, a visibly frustrated Messi announced his retirement from international football, only to reverse his decision two months later in response to the outpouring demostrations of support from all across Argentina. In any case, because of Leo's lack of titles with the national squad he also has quite a number of detractors in his home country.
Off the field, Lionel Messi has been actively involved in charitable efforts aimed at vulnerable children, partly in response to his own medical difficulties as a child. Apart from collaborating with UNICEF with funds and personally as a goodwill ambassador, he also runs the Leo Messi Foundation, which supports children in health care, education, and sport.
Lionel Messi is married to fellow Rosario native Antonela Roccuzzo. They have known each other since Leo was five years old, but only began going out in 2008. The couple has since had three sons: Thiago (2012), Mateo (2015), and Ciro (2018).
Messi Goals and Other Career Stats
GAMES AND GOALS PER TEAM*
| | | |
| --- | --- | --- |
| Argentina (2005-2018) | 128 games | 65 goals |
| Argentina U23 (2008) | 5 games | 2 goals |
| Argentina U20 (2004-2005) | 18 games | 14 goals |
| FC Barcelona (Spain, 2004-2018) | 418 games | 383 goals |
| FC Barcelona B (Spain, 2004-2005) | 22 games | 6 goals |
| FC Barcelona C (Spain, 2003-2004) | 10 games | 5 goals |
| TOTAL | 601 games | 475 goals |
* As of 30 June 2018. Barcelona senior club games and goals counted for the domestic league only.


TITLES WON (34*)
2005

.



La Liga (FC Barcelona)
Supercopa de España (FC Barcelona)
FIFA U-20 World Cup (Argentina)
2006

La Liga (FC Barcelona)
UEFA Champions League (FC Barcelona)
Supercopa de España (FC Barcelona)
2008

Olympic Gold Medal (Argentina)
2009

La Liga (FC Barcelona)
Copa del Rey (FC Barcelona)
Supercopa de España (FC Barcelona)
UEFA Champions League (FC Barcelona)
UEFA Super Cup (FC Barcelona)
FIFA Club World Cup (FC Barcelona)
2010

La Liga (FC Barcelona)
Supercopa de España (FC Barcelona)
2011
La Liga (FC Barcelona)
Supercopa de España (FC Barcelona)
UEFA Champions League (FC Barcelona)
UEFA Super Cup (FC Barcelona)
FIFA Club World Cup (FC Barcelona)
2012
Copa del Rey (FC Barcelona)
2013
La Liga (FC Barcelona)
Supercopa de España (FC Barcelona)
2015
La Liga (FC Barcelona)
Copa del Rey (FC Barcelona)
UEFA Champions League (FC Barcelona)
UEFA Super Cup (FC Barcelona)
FIFA Club World Cup (FC Barcelona)
2016
La Liga (FC Barcelona)
Copa del Rey (FC Barcelona)
Supercopa de España (FC Barcelona)
2017
Copa del Rey (FC Barcelona)
2018
La Liga (FC Barcelona)
Copa del Rey (FC Barcelona)
* As of 30 June 2018. With Argentina's national team, Messi has also been the runner-up in four championships: Copa America 2007, FIFA World Cup 2014, Copa America 2015 and Copa America Centenario 2016.

MAIN AWARDS AND INDIVIDUAL RECORDS
Top goalscorer

Argentina national team all-time top goalscorer (since 2016)
FC Barcelona all-time top goalscorer (since 2012)
UEFA Champions League top goalscorer (2009/10/11/12/15)
La Liga top goalscorer (2010/12/13/17/18)
Copa del Rey top goalscorer (2009/11/14/16/17)
Guiness World Record as top goalscorer for club and country in a calendar year (91 goals, 2012)
Best player

Ballon d'Or * (2009 – France Footbal, 2010/11/12/15 – FIFA)
Golden Ball in Brazil's World Cup (2014 – FIFA)
World Player of the Year (2009 – FIFA)
Golden Shoe (2010/12/13/17/18 – European Sports Media)
Golden Boy (2005 – European Sports Media)
Best Player in Europe (2011/15 – UEFA)
Best Player in Spain (2009/10/11/12/13/15 – La Liga)
Miscellaneous

____

World Cup Dream Team (2014 – FIFA)
Copa America Dream Team (2007/11/15/16 – CONMEBOL)
Goal of the Season (2007/15/16 – UEFA)
Copa America Best Goal (2007 – CONMEBOL)
UNICEF Goodwill Ambassador (since 2010 – UN)
* The Ballon d'Or (French for "Golden Ball") is an annual football award presented by France Football magazine. It has been granted since 1956, although between 2010 and 2015 it temporarily merged with the FIFA World Player of the Year, and was known as the FIFA Ballon d'Or. Originally, only those players with European citizenship were in contention for the Ballon d'Or, but in 1995 it was expanded to include all players at European clubs and in 2007 to all players from around the world.

Best Lionel Messi Goals (2007-2017)
---
Tributes to Messi
In Buenos Aires, Argentina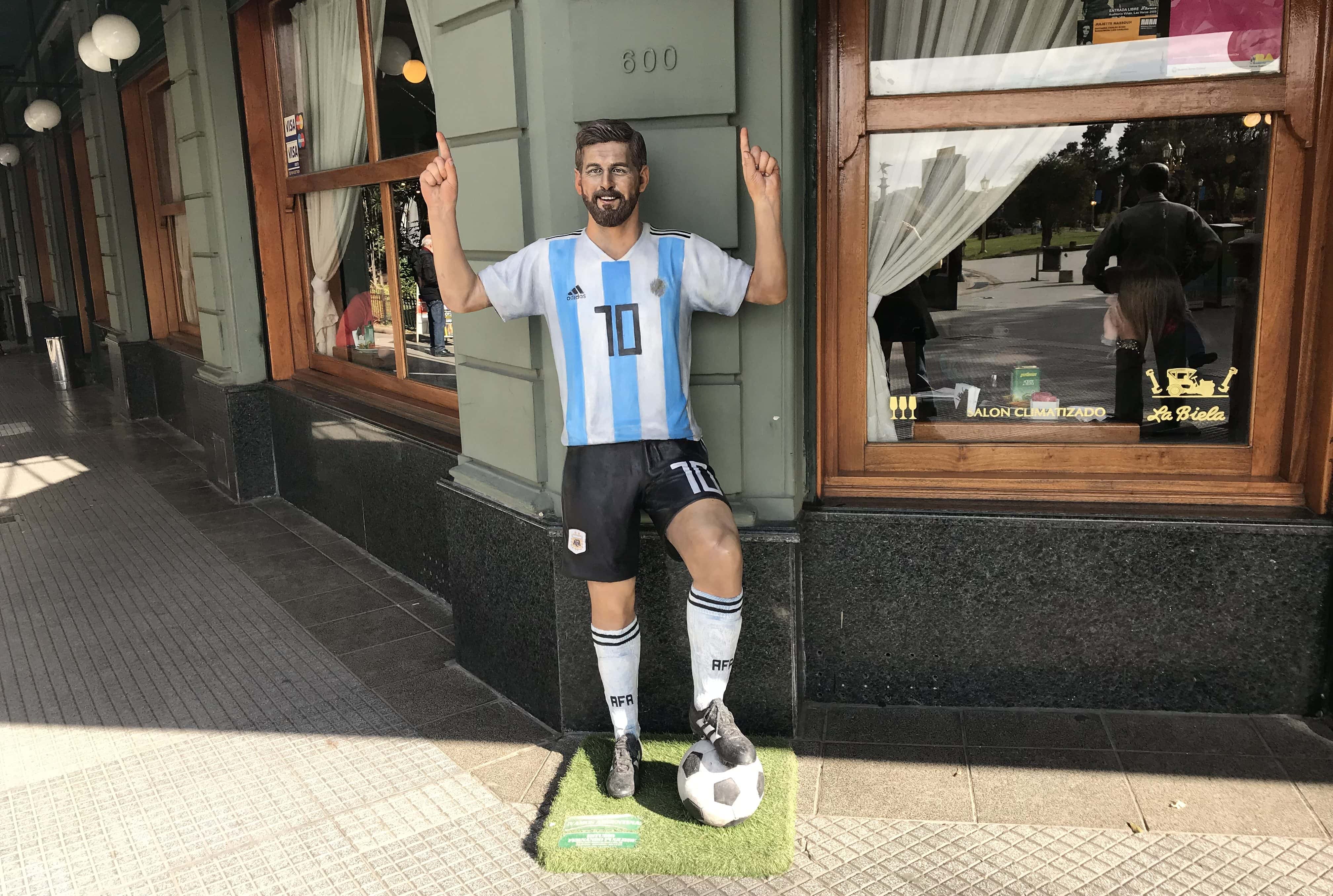 Statue in Recoleta (Av. Pres. Manuel Quintana 600, Recoleta, City of Buenos Aires) By the doorstep of iconic Porteño cafe La Biela lies a colorful Messi statue. He is depicted pointing his fingers towards the sky, Leo's typical goal dedication to his grandmother.
Statue in Puerto Madero (Costanera Sur, Puerto Madero, City of Buenos Aires)  Lionel Messi's statue was unveiled in 2016 in the so-called "Paseo de la Gloria" (Passage of Glory) along promenade Costanera Sur, in the Buenos Aires district of Puerto Madero. The passage pays homage to several of Argentina's sporting greats. Unfortunately, some statues — including Messi's — have been targeted by vandals.
In Rosario, Argentina
Murals in Rosario  Suprisingly enough, the city that is home to both Lionel Messi and Che Guevara lacks decent tributes to its prodigal sons. As refers to Leo there are some murals in his childhood neighborhood, including an artpiece by Paulo Consentino on a wall outside his school, as well as paintings close to his old house and on the walls of a soccer field where he used to play.
Restaurant in Rosario (Rioja 411, Rosario) Bar VIP Rosario is a well-known, well-located restaurant in Rosario, owned by Jorge Messi, Leo's father. The place serves typical Argentine meals and features a couple of photomurals of el crack.
in barcelona, SPAIN
Mural in Barcelona (Parc de les Tres Xemeneies, Poble Sec, Barcelona)  In 2016, a colourful mural popped up in Barcelona in celebration of Lionel Messi's fifth Ballon d'Or. A few years earlier, in 2012, another Messi-themed grafitti had been painted on the same wall on occasion of Leo's third Golden Ball.
Restaurant in Barcelona (Enric Granados 86, Barcelona, Spain) A tribute brought by Messi and his siblings to their hometown, Rosario, "Bellavista del Jardín del Norte" is a beautiful restaurant that resembles a small village, with its own church, plaza, cinema, and barbershop. It serves up an interesting mix of international cuisines, from Spain's most evocative tapas to Lionel Messi's favorite Argentine dish, "milanesa napolitana a caballo" (breaded veal accompanied by ham, cheese, egg and tomato sauce).
International
Wax Statues  Lionel Messi has been immortalized in wax in several Madame Tussaud's museums across the globe, including London, New York, Berlin, Amsterdam, Beijing, Tokyo and Wuhan.  In New York, Messi's figure is placed in an interactive simulator where visitors can practice their best kick in a virtual soccer arena.
Cinema  Messi (2014 film) is a documentary about Leo's life, directed by cult Spanish filmmaker Álex de la Iglesia. On the other hand, Messi (2017 film) is a movie by Bengali director Riingo Banerjee, in which Lionel Messi's remembrance serves as a metaphor for the intense passions aroused by football.
---
Share!